BBG:
Central bank keeps main monetary-stimulus target unchanged
Kuroda says adjustments don't qualify as additional easing
While the decision to continue expanding the monetary base at an annual pace of 80 trillion yen ($656 billion) was forecast by all but one of 42 economists surveyed by Bloomberg, investors where caught off guard by details in the BOJ's statement.
The Topix stock index jumped as much as 2 percent before ending the day down 1.8 percent while the yen weakened sharply against the dollar and then erased the losses and strengthened.
Governor Haruhiko Kuroda, who acknowledged in a news conference that some of the adjustments would be hard for people to understand, said they were designed to make it easier for the BOJ to maintain the current policy and didn't constitute additional easing.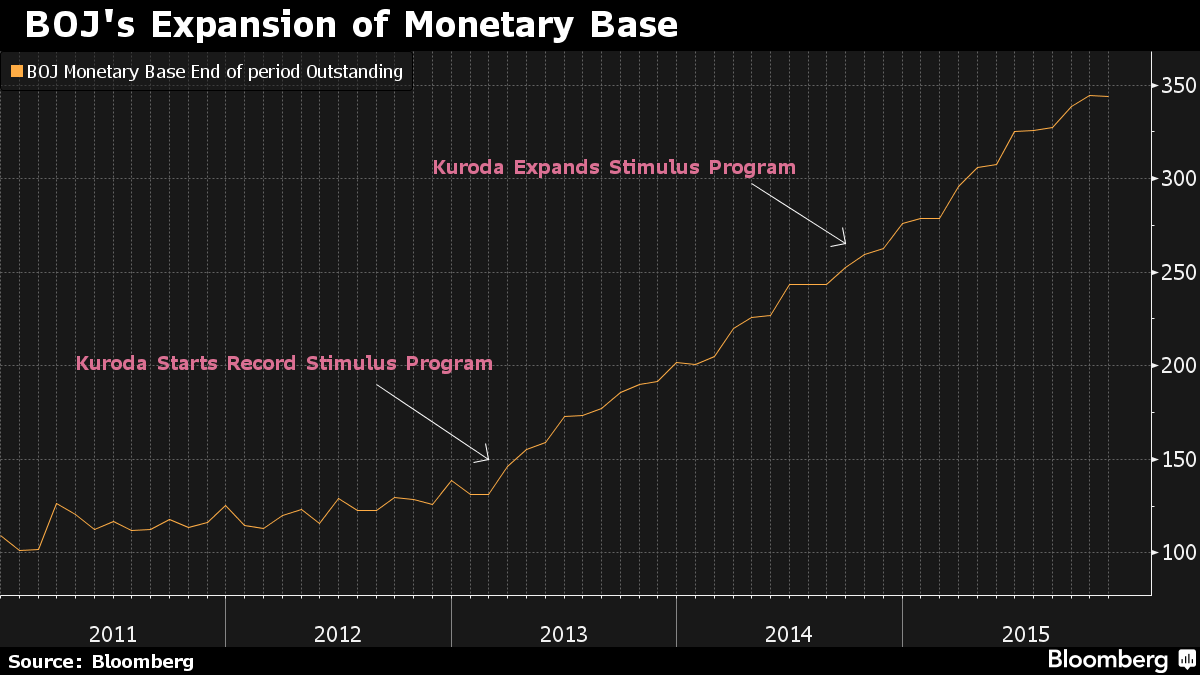 The bank plans to lengthen the average maturities of Japanese government bonds it buys to seven to 12 years from seven to 10 years currently. This change was opposed by three board members, Takahide Kiuchi, Koji Ishida and Takehiro Sato.
"The BOJ extended the duration of JGBs to show they are not going to taper their stimulus for now," said Junko Nishioka, chief economist for Japan at Sumitomo Mitsui Banking Corp. in Tokyo. "Now that they adjusted their policy in December, they will wait and see how things will develop." Nishioka added that she no longer forecasts further easing in January.
Ahead of Friday's policy meeting, analysts were almost evenly split on whether the central bank would add to its asset-purchase program next year or stand pat. Kuroda reaffirmed on Friday that he wouldn't hesitate to adjust monetary policy if needed.
ETF Program
In addition to the annual purchase of 3 trillion yen worth of exchange-traded funds, the bank established a new program to buy 300 billion yen in ETFs. The new program will target companies investing "proactively in physical and human capital" and start from April 2016 with ETFs tracking the JPX-Nikkei Index 400.
These changes passed by a 6-3 vote, opposed by Sato, Ishida and Kiuchi, the only board member to also vote against the main monetary base target.
The bank will increase the maximum amount of real-estate investment trusts it can buy to 10 percent of each issue, from five percent currently.
Better Data
Data since the last policy meeting in November show that Japan avoided a midyear recession, and people familiar with discussions at the central bank told Bloomberg the economy has been gradually gathering momentum in line with the BOJ's expectations.
Still, the renewed slide in crude oil and the risk that it could suppress prices in the long term means that BOJ officials are closely watching gauges of inflation expectations, the people said.
The Dubai measure for crude oil is trading around $32 per barrel, compared with the low end of BOJ assumptions for its latest price forecasts of $50 per barrel.
Kuroda said Friday that the BOJ still expects to meet its 2 percent inflation target around the six months through March 2017, but that the timing could change with oil prices.
Economy Minister Akira Amari has indicated there is no need for the BOJ to rush to achieve its 2 percent inflation target given the current impact of energy costs, even with the BOJ's preferred price gauge falling since August.
Fed Policy
The Federal Reserve's first increase in interest rates since 2006 this week underscores the difference in policy between the two central banks, and the renewed pressure this may bring to bear on the yen to weaken against the dollar.
Kuroda declined to comment directly on the Fed's policy while noting it reflected a strong U.S. economy.
The Japanese currency has lost about 30 percent of its value against the dollar since Prime Minister Shinzo Abe took office in 2012 with a plan to reflate the economy.
Even so, exports haven't responded. While the value of shipments overseas has jumped 20 percent since November 2012 to last month, volumes are only 1.1 percent higher.
Both Abe and Kuroda have urged companies to invest more, but there has been little sign of them using their cash reserves, which reached another record last quarter.
Original Article:
www.bloomberg.com