Headcount at the 12 biggest firms down 28 percent since 2010
Culls continue even after SNB shock spurs jump in revenue
As banks around the world cut sales and trading jobs in an effort to reduce costs, the bloodletting in foreign exchange is proving to be among the deepest and most painful.
The world's 12 biggest banks cut front-office currency staff by 5 percent in 2015, extending a trend that's seen them reduce foreign-exchange headcount by more than a quarter since 2010, according to Coalition Development Ltd., a London-based provider of research and analytics for the financial industry. Layoffs among foreign-exchange traders last year outpaced those in equities, corporate finance and advisory, and fixed income, currencies and commodities trading broadly.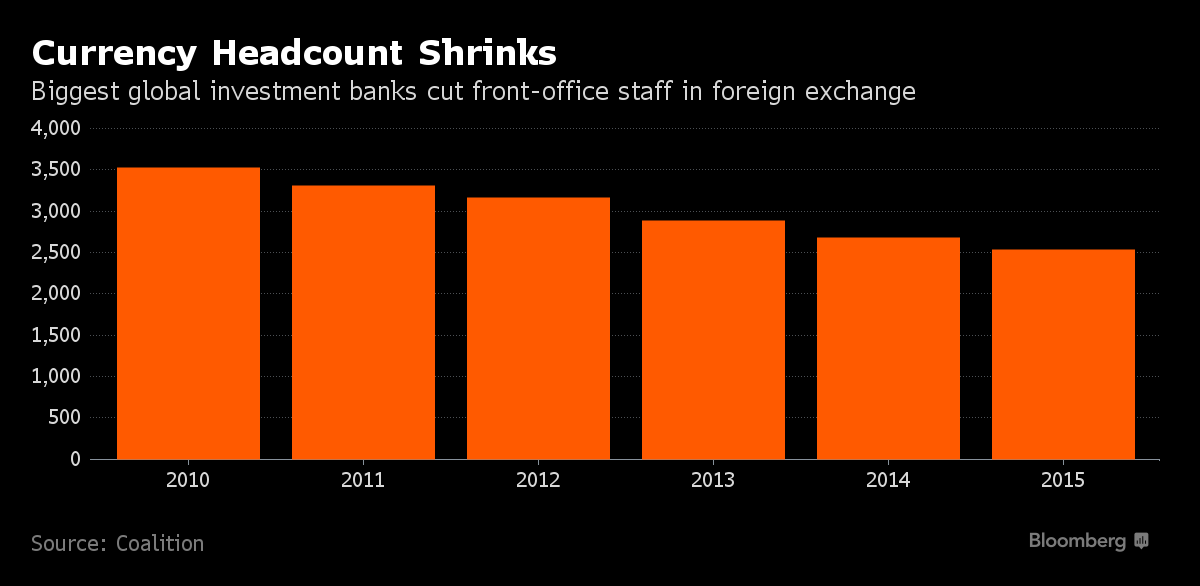 The $5.3-trillion-a-day currency market has been transformed by a shift to automation that's reduced staffing needs and coincided with declining volumes. Foreign-exchange trading in the U.K. and North America shrank by more than 20 percent in October from a year earlier, according to central banks in those regions. A 19 percent surge in revenue spurred by elevated volatility will likely do little to stem further cutbacks in the coming years, according to Coalition's George Kuznetsov.
"The outlook for headcount is negative to neutral," Kuznetsov, head of research and analytics at Coalition, said in a Feb. 19 interview. "Last year's spike in revenue didn't necessarily make banks change their opinion about the foreign-exchange market."
---

---
SNB Shock
Banks reaped higher foreign-exchange revenues for the first time since 2011, driven by a surge in activity after the Swiss National Bank shocked markets last January by abandoning its currency cap. Revenues from selling and trading Group-of-10 currencies in the spot, forwards and options markets rose to $9.5 billion last year, up from $8 billion in 2014.
"We saw a massive spike in foreign-exchange volatility related to the Swiss franc. This generated trading opportunities and, most importantly, increased client activity to help boost banks' revenues for the year," Kuznetsov said. "It does seem like a one-off volatility event that drove the increase in performance."
A JPMorgan Chase & Co. gauge of currency volatility averaged 10.08 last year, the most since 2011.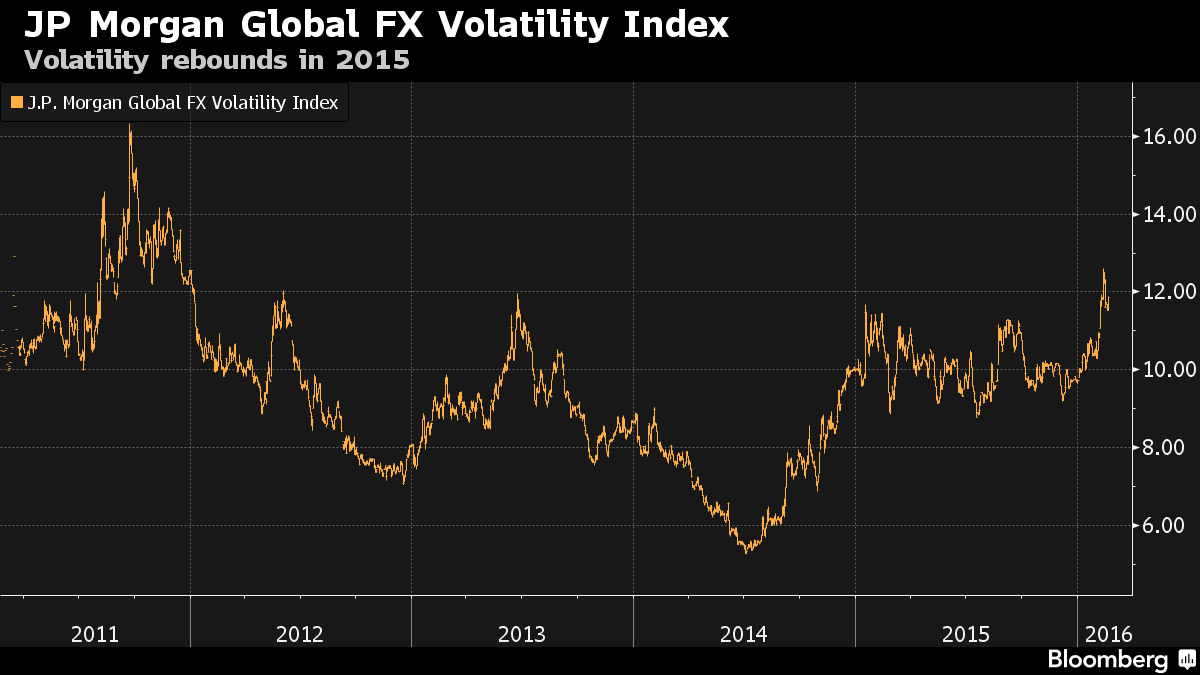 The 5 percent decline in front-office foreign-exchange headcount compares with a 1 percent drop in corporate finance and advisory positions and a 4 percent decline in fixed income, currencies and commodities jobs broadly. Equity headcount remained flat, according to Coalition.
Banks that decide to make further cuts to foreign-exchange desks will likely cede market share and be forced to reduce activities in some currency products or markets, Kuznetsov said.
The 12 banks included in Coalition's analysis were Bank of America Corp., Barclays Plc, BNP Paribas SA, Citigroup Inc., Credit Suisse Group AG, Deutsche Bank AG, Goldman Sachs Group Inc., HSBC Holdings Plc, JPMorgan, Morgan Stanley, Societe Generale SA, and UBS Group AG.
Article: Bloomberg
Forex Trading Seminars:
Charles Clifton
Forex Trader // Coach // Signals Service // Seminars
E: info@charlesclifton.co.uk
w: www.charlesclifton.co.uk
M: 07871 515203
T: 0117 3 789 969