Options markets show surge in trading since September FOMC
Traders are likely hedging their bets on rising interest rates
Federal Reserve officials are expecting to raise interest rates this year and next. Options markets show some investors are taking out protection in case rates instead go negative.
The implied probability of U.S. interest rates sinking below zero next year has risen above 10 percent, data compiled by Bloomberg show. The move has been driven by a surge in purchases of contracts that pay out if rates are cut below zero by the end of 2017 and may be linked to investors finding a cheaper way to hedge the opposite bet — that rates will actually rise as the Federal Reserve expects.
The negative-rates trades — created through the use of call options on futures contracts linked to the U.S. dollar London interbank offered rate — have been placed as bonds have rallied, said Todd Colvin, a senior vice president at Ambrosino Brothers in Chicago.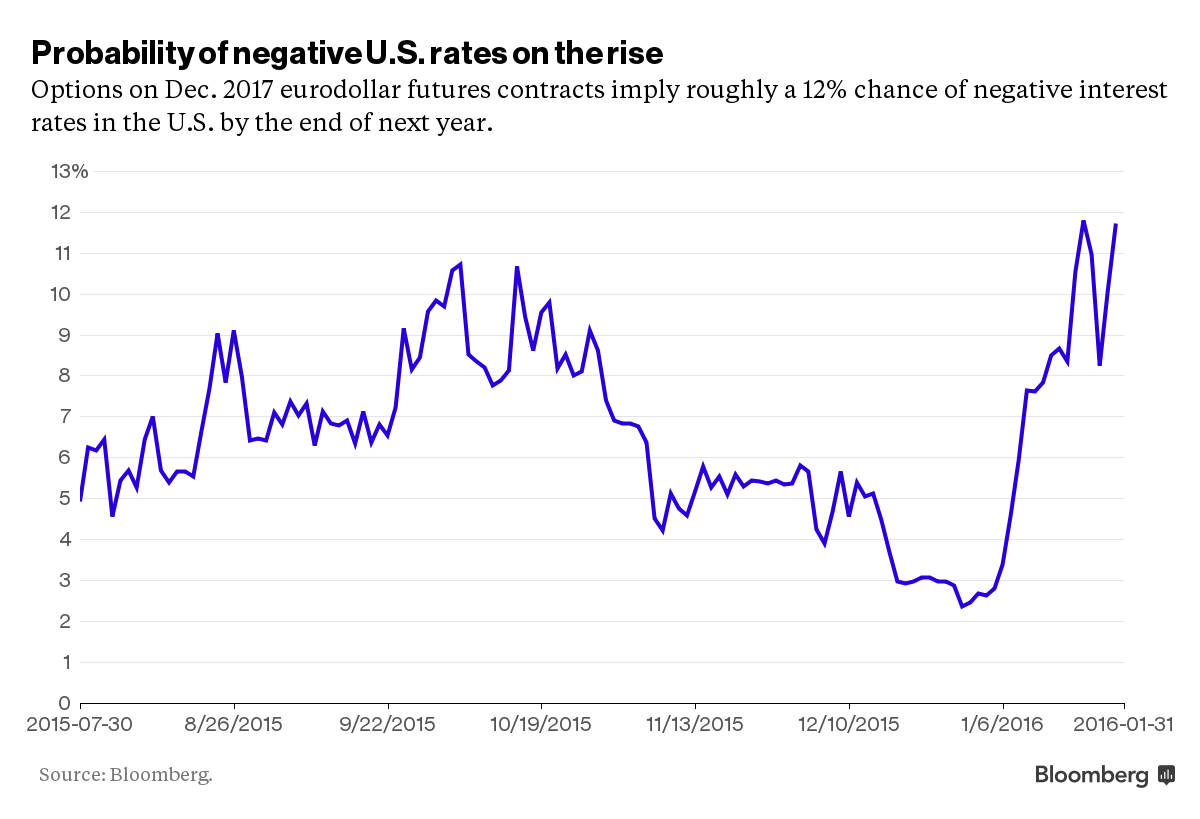 "This is kind of the 'black swan' theory of defense," Colvin said, referring to an event that only has a small chance of happening but would have dramatic consequences if it did. "This is not necessarily someone thinking, yeah, rates are going negative in 2017 and we've got to buy these calls."
Fed on Hold
Fed Chair Janet Yellen and her colleagues on the Federal Open Market Committee are expected to leave the target range for the federal funds rate at 0.25 percent to 0.5 percent when they conclude a two-day meeting in Washington on Wednesday.
They voted last month to raise the benchmark rate for the first time since 2006. Forecasts prepared for their December meeting showed the median FOMC official expected four hikes would be appropriate in 2016, and four more in 2017.
Since then, the 10-year U.S. Treasury yield has declined nearly 0.3 percentage point against a backdrop of increasing concerns over global growth. Pricing in interest-rate futures contracts now suggests investors only see one more rate increase this year.
Fed officials project interest rates will rise in the next three years, but have not taken negative rates entirely off the table.
"We're not in a position today that we are thinking at all seriously of moving to negative interest rates," New York Fed President William Dudley said on Jan. 15. "But I suppose if the economy were to unexpectedly weaken dramatically, and we decided that we needed to use a full array of monetary policy tools to provide stimulus, it's something that we would contemplate as a potential action."
Even if the outcome is seen as unlikely, the trades show rising respect among some investors for such a possibility, said David Keeble, the New York-based head of fixed-income strategy at Credit Agricole SA.
"Negative rates make no sense to me, but I can understand that some people have a different view," Keeble said. "This is really the last possible thing the Fed wants to do."
Original Article: Bloomberg