Expect a subdued tone and economic downgrades from the Bank of England on Thursday. But, pound sterling could actually end the day higher, here's why.
The big event on the pound's calendar for February is the Bank of England's interest rate decision on Thursday. The day will be a 'Super-Thursday' – a term coined to describe those policy meetings that coincide with the quarterly Inflation Report.
The quarterly event is therefore the most important in terms of gauging the Bank's thoughts on interest rate levels and attempting to answer the question as to when rates will rise.
Markets have been expecting 'imminent' rate rises for years now; but the Bank simply kicks the timing into the distance year after year, and each time it does this sterling falls. This Thursday's meeting will be no different.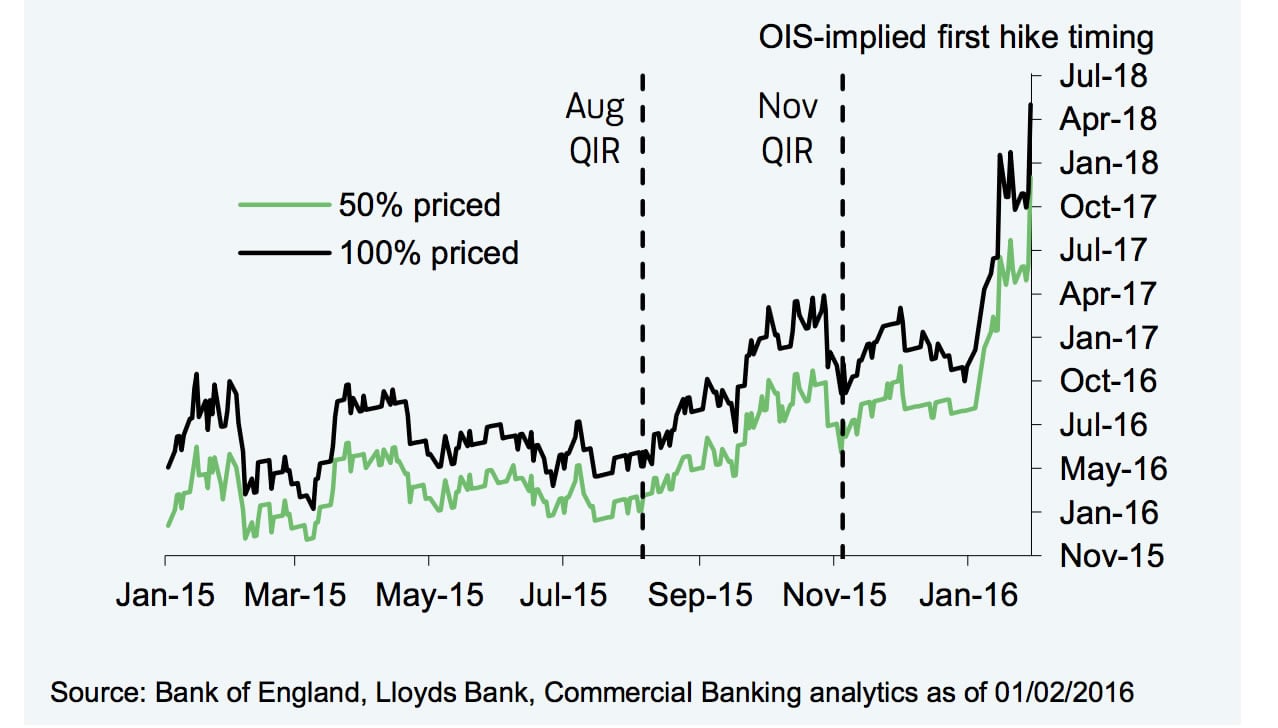 Above: Market-implied timing of first Bank Rate hike has been pushed out since November's QIR
"Rate hikes are not coming soon. Unemployment keeps falling, but wage growth is not strong enough yet. Downside economic risks are elevated. The forthcoming EU referendum provides uncertainty. The news since November points to low inflation lasting for longer, but not forever," says Robert Wood at Bank of America Merrill Lynch.
BofA consequently expect Thursday's Quarterly Inflation Report (QIR) to be more dovish than November's.
This should result in a sharply weaker pound sterling, right?
Not so argue BofA.
"Given the scale of the sell-off in recent months, a dovish QIR may not meaningfully push GBP lower immediately, but we expect further weakness as the Brexit risks keep rate hike expectations well into 2017," says Wood.
GBP weakness has been a hallmark of 2016 with the currency now some 8.89% lower than its 2015 best against the euro.
British pound declines have continued into 2016 as fading rate hike expectations, global financial market volatility and rising Brexit risk premium undermine sentiment.
There is also the question of sterling's strength – central banks the world over are more than happy when they see the value of their currency fall as this tends to help boost the competitiveness of domestic produce on the global stage.
Weaker currencies tend to act as an economic stimulant.
Sterling has come off its recent highs after sustained appreciation in recent years, which should help rebalance economic output in the UK. The Bank will be happy with this development.
"Movements in GBP are important, and this time more favourable. Carney likely wants to keep things this way, so he'll avoid saying anything that might be GBP supportive," says Richard Kelly, Head of Global Strategy at TD Securities.
There is a 40% chance that the initial headlines out of Super Thursday will result in such a dovish scenario suggest TD Securities.
The investment bank believes that the Press Conference that follows the release of the Inflation Report will also weigh on the pound.
"Press conference risks are skewed to the bearish side for cable; expect these to offset any GBP rebound or hasten its post-announcement decline," says Kelly.
Indeed, Kelly believes the GBPUSD could fall toward support around 1.4230 with a possible extension towards 1.4175 if the message is particularly dovish.
However, TD Securities believe the prospect for a 'hawkish' and pro-GBP message is at 55% – a view that chimes with that at Bank of America.
What does a hawkish scenario look like? "No change to the vote (8-1) and little change to the inflation and output forecasts interpreted by markets as mildly hawkish, even though we think it only reinforces MPC's comfort level with low yields," says Kelly.
If this occurs then the GBP to USD exchange rate should rally – but gains will likely be capped at 1.4475/95 suggests Kelly.
Inflation and Growth Forecasts to be Lowered
A lot has changed since the BoE published its November Inflation Report and the degree to which inflation forecasts are lowered will determine the pound's response.
Inflation data have been a little weaker than expected, while the annual rate of CPI inflation rose to 0.2% in December, leaving the out-turns broadly in line over the quarter, it was a little shy of the upward gradient expected in November's Report.
"Downward near-term revisions to projections for both GDP growth and inflation are likely, but the MPC will continue to indicate a tightening bias by projecting inflation at or above the target beyond the 2-year horizon," says Nikesh Sawjani at Lloyds Banking Group.
JPMorgan believe the BoE will mark down its growth forecasts to due to recent softening in the UK and global activity data, and the sell-off in risk assets, while noting increased downside risks to the global outlook.
"We expect the February update to be dominated by a discussion of the global economy, low inflation, risks from the recent turbulence in financial markets and by the fact that the government's decision as to when to hold the UK's Brexit referendum is coming into sharper relief," says Allan Monks at JPMorgan in London.
But analysts at JPMorgan expect these changes in the forecast to be small as both oil prices and the trade weighted currency have fallen markedly which should be viewed as offering a net support to growth.
These observations confirm that the market has a grip on just how bearish the Bank will be – as such sterling could well be priced for the negativity.
Of course there is a risk that the Bank strikes a softer-than-expected tone; but on balance there is a risk now that the Bank is not-as-soft-as-expected, which favours a higher sterling.
Pound Sterling Live