Greenback gains almost 3 percent after falling to one-year low
Goldman sees U.S. currency advancing 15 percent over two years
Goldman Sachs Group Inc. says the dollar slump is over.
A gauge of the greenback has rallied almost 3 percent from a one-year low reached last week, extending gains even after April payrolls data showed the weakest job growth in seven months. Goldman Sachs says the post-payrolls rally shows that market expectations for economic growth and Federal Reserve interest-rate increases have fallen too far, too fast, positioning the currency for a rebound. Strategists at Societe Generale SA and Brown Brothers Harriman & Co. are less bullish, saying a broader dollar recovery will depend on further economic data.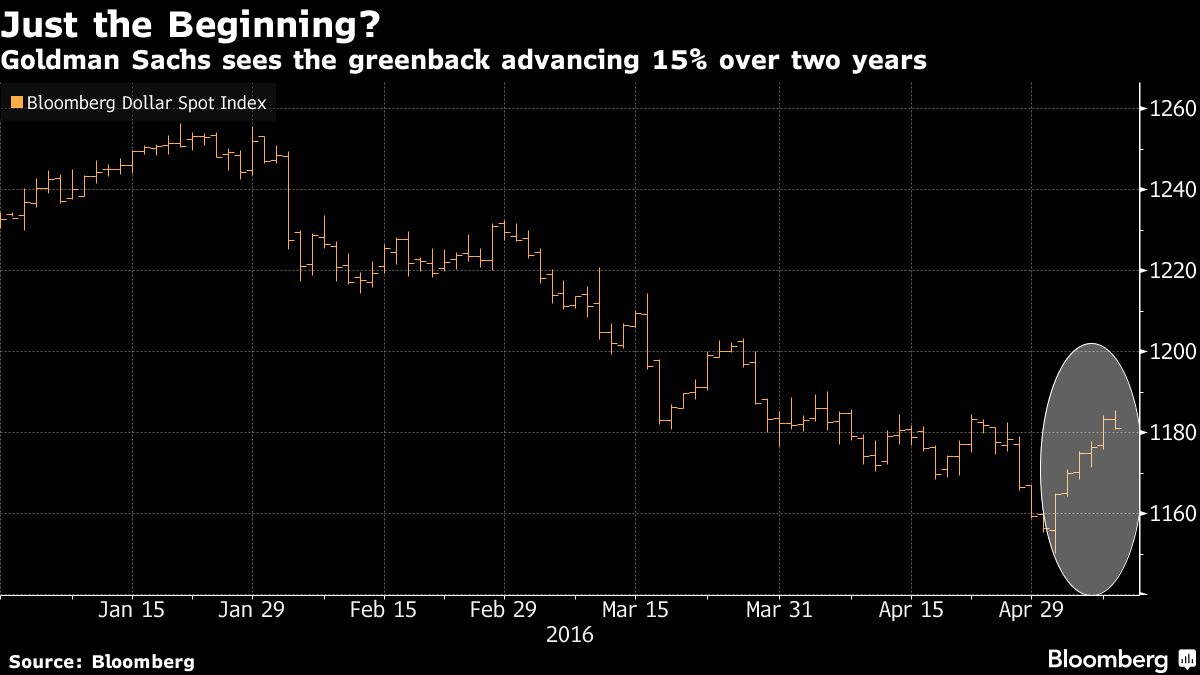 "We remain dollar bullish and think the trajectory is higher from here," Robin Brooks, Goldman Sachs's New York-based chief currency strategist, said in an interview with Bloomberg Radio. "The reaction on Friday to a meaningfully weaker-than-expected payrolls was telling: We had a disappointing jobs number and the dollar actually bounced."
Goldman Sachs estimates that the dollar will advance 15 percent during the next two years as U.S. monetary policy normalizes, Brooks said in a report Tuesday. This isn't the first time the bank has reiterated its dollar-bullish stance in recent months, a view that hasn't always panned out. Goldman Sachs closed a dollar position against a equally weighted basket of euro and yen in February, one of its top trade recommendations for 2016, with a potential loss of about 5 percent.
Fed Path
The greenback saw its biggest advance in six months last week, and has pared its 2016 decline to 4.1 percent through Wednesday. The dollar fell for a third straight month in April, the longest stretch since before it embarked on a 20 percent rally in July 2014, on speculation the Fed will take a slower path to raising rates as it factors in headwinds from slowing global economic growth.
The Bloomberg Dollar Spot Index, which tracks the greenback versus 10 peers, was little changed as of 10:29 a.m. in London, after climbing 1.5 percent last week, the most since Nov. 6. The U.S. currency fell 0.6 percent to 108.61 yen, after closing at the highest since April 27 on Tuesday.
Market Outlook
While Fed policy makers have recently talked up the potential for rate hikes in the near term, reiterating that June's FOMC meeting will be "live" and forecasting two potential rate increases this year, markets aren't convinced.
Traders have already heavily discounted the likelihood of any Fed action before the fall, predicting just a 6 percent change of a rate hike next month — evidence, Goldman Sachs says, that markets are increasingly looking away from the Fed and to other central banks to set the dollar in motion.
"In a way, the Fed has been something of a sideshow for the dollar recently," Brooks wrote.
The Bank of Japan surprised markets last month by keeping policy unchanged, defying bets for further policy stimulus. The move came as a surprise to the majority of economists surveyed by Bloomberg who had projected some action from the central bank in response to a strengthening in the yen that has cast a shadow over prospects for higher wages and investment.
European Central Bank President Mario Draghi expressed optimism about inflation and the economy after meetings that ended April 21, surprising investors who speculated policy makers would signal more monetary stimulus. Economists surveyed by Bloomberg have predicted further monetary easing to come.
Currency Levels
A dollar move above 108 yen and a decline in the euro below $1.1350 would signal a start to a broader recovery that may have begun for the dollar last week, Marc Chandler, global head of currency strategy in New York at Brown Brothers Harriman, wrote in a report.
"The key issue facing the foreign exchange market is whether the modicum of strength the U.S. dollar demonstrated lat week is the beginning of a sustainable move," Chandler said. "It is possible that the market is again at a juncture in which the price action will drive the narrative rather than the other way around."
A further fall in nominal yields has been offset by falling break-even inflation rates, underpinning the dollar's stabilization, Kit Juckes, a global strategist at Societe Generale in London wrote. "I wouldn't call the picture 'dollar bullish' by any stretch of the imagination," he wrote. "More a case of an uneasy truce between dollar bulls and bears while we await new information."
The dollar is forecast to strengthen to $1.11 per euro and 115 yen by year-end, according to median estimates in Bloomberg surveys of analysts. Speculators and other large hedge funds extended net-short positions on the greenback versus eight major currencies to the most since April 2014 in the week ended May 3, Commodity Futures Trading Commission data show.
Source: BBG
Forex Trading Workshops – LONDON
Forex Trading Workshops – BRISTOL
Charles Clifton
Forex Trader // Coach // Signals Service // Seminars
E: info@charlesclifton.co.uk
w: www.charlesclifton.co.uk
M: 07871 515203
T: 0117 3 789 969