Bloomberg:
BT & Barclays leaders warn of damage to U.K. from `Brexit'
Sterling stays weaker as BOE sees slower growth outlook
The pound is quickly running out of friends. And its biggest enemies see the British currency falling to levels last seen during the reign of Margaret Thatcher.
Deutsche Bank AG last year was already predicting a plunge in 2016 to $1.27, a level that hasn't been seen since 1985, when the Live Aid charity concert was rocking north-west London and England's soccer teams were banned from European club competitions.
The world's second-biggest currency trader's view has been joined by a growing number of bears this year. ING Bank NV predicts the pound will slide 8 percent to $1.32 by the end of June and Credit Suisse Group AG sees it dropping to $1.40 in three months and $1.33 in a year. Nomura Holdings Inc. is forecasting $1.41 in the middle of 2016, compared with a previous call of $1.52.
Strategists are racing to downgrade their forecasts for a currency that's being knocked by a litany of woes from the prospect of record-low interest rates being entrenched for longer and a possible exit from the European Union that business leaders say will damage Britain. Analysts' forecasts for the pound-dollar exchange rate by June have dropped 2 percent in the past month, even as they failed to keep up with its almost 5 percent slide in that period.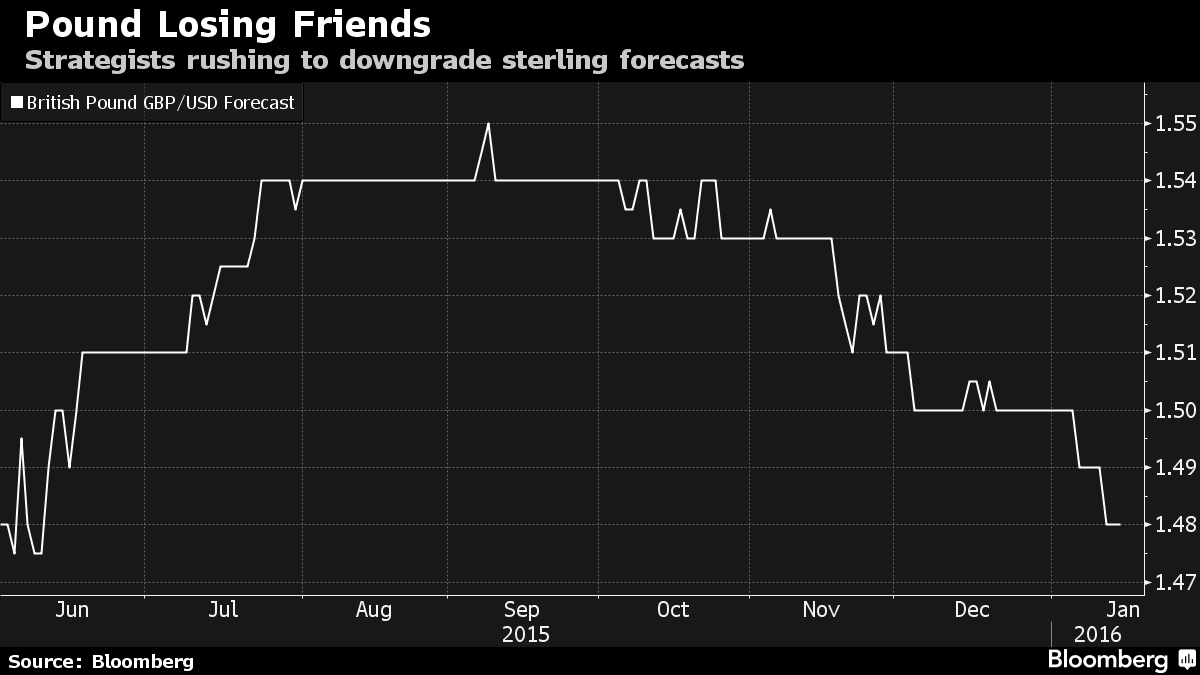 The U.K. currency "doesn't have many friends at all," said Jane Foley, a foreign-exchange strategist at Rabobank International in London, whose $1.44 mid-year forecast has already been surpassed. "It's easy to stack up the negative sterling reasons. We've had disappointing economic data, inflation is very weak, the market is pushing back expectations about interest-rate hikes and there will be political issues this year."
The pound dropped 0.5 percent on Friday to $1.4345 as of 10:50 a.m. London time, after reaching $1.4338, the lowest level since May 2010. It has declined 2.7 percent this year, after sliding 5.4 percent through 2015 and 5.9 percent a year earlier. Sterling has weakened 3 percent versus the euro since the end of December.
Even with the flurry of downgrades, the median of analysts' predictions is for the pound to gain by June to $1.48. That's down from $1.51 a month ago and the weakest forecast since June.
Calling the pound proved to be tricky during 2015, with the currency ending about 5 percent weaker than the $1.55 median of analysts' predictions as of December 2014. Credit Suisse was then forecasting $1.53, according to the data compiled by Bloomberg.
Brexit Debate
Michael Rake, chairman of BT Group Plc, and Barclays Plc Chairman John McFarlane became the latest business leaders to warn that a vote to leave the EU would damage the country and that the "Brexit" debate has already cost the U.K. foreign investment.
Bank of England officials kept the benchmark interest rate at a record-low 0.5 percent Thursday, where it's been since March 2009, and said the outlook for growth and inflation has weakened further.
Concerns about Britain's future in the EU and a weak domestic economic recovery have weighed on the pound since the start of the year. This has coincided with money-market traders further delaying the timing of when the BOE will lift interest rates for the first time since July 2007.
Forward contracts based on the sterling overnight index average, or Sonia, aren't pricing in a quarter-point increase until after February 2017, data compiled by Bloomberg show. The contracts indicated a January 2017 increase as recently as Jan. 4.