Greenback drop to 9-month low follows worst quarter since 2010
Fed fuelling weakness as rate-increase expectations dissipate
Hedge funds are close to calling it quits on the dollar's best run in a generation.
Large speculators cut net bullish positions on the greenback to the lowest in almost two years last week. If they keep trimming at the current pace, those bets will be wiped out entirely by the end of the month. Currency options are signaling a less than one-in-four chance the greenback will extend its two-year, 25 percent surge against the euro in 2016, while against the yen the likelihood is less than one in 10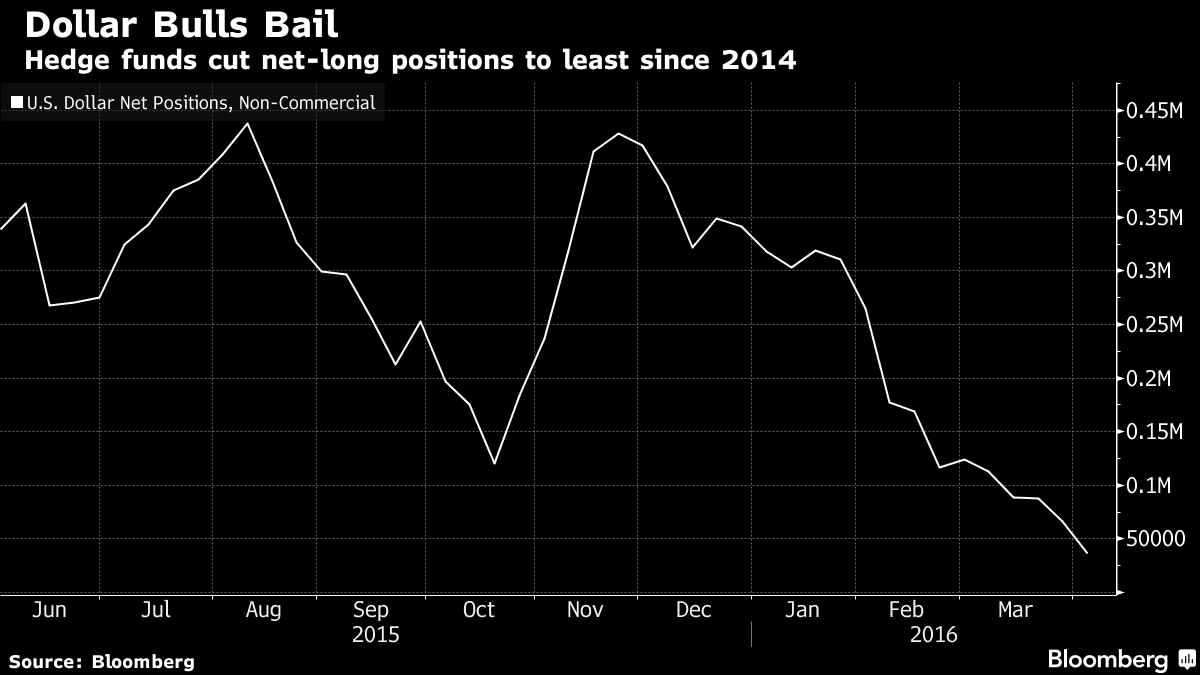 As hedge funds abandon dollar wagers, investors and strategists have lowered their outlooks for the currency. The Bloomberg Dollar Spot Index slumped 3.9 percent in March, its biggest monthly drop since 2010, as Federal Reserve Chair Janet Yellen signaled the central bank would act "cautiously" as it looks to raise interest rates. Continued dollar weakness would be good news for U.S. companies that have seen their profit eroded the past two years by currency effects.
"We're definitely near the end for the dollar bull run if we have not already seen the peak," said Brendan Murphy, a Boston-based director at Standish Mellon Asset Management Co., which manages $16.5 billion. "We're clearly in this topping-out process."
Murphy said he's selling the dollar against emerging-market currencies including the Mexican peso and Russian ruble.
Cutting Wagers
Analysts have reduced estimates for the dollar to the lowest in 16 months versus the Japanese currency and to the least since July against the euro. Hedge funds reduced net bullish positions on the U.S. currency versus eight major peers to 36,304 contracts as of April 5, the least since July 2014, from more than 420,000 contracts as recently as November, according to Commodity Futures Trading Commission data compiled by Bloomberg.
A Fed trade-weighted dollar index gained 19 percent during the past two years, approaching sustained rallies that began in 1979 and 1995. This year, the measure has fallen 5 percent. It may foretell a bigger correction lasting several quarters, according to UniCredit SpA.
"This is a key point, as the dollar could not sustain its gains even with a normal hiking cycle, let alone now with anticipation of an even more gradual one," said Vasileios Gkionakis, global head of foreign-exchange strategy at UniCredit in London.
Fed Watch
Derivatives traders have cut the likelihood of a Fed rate increase to less than 50 percent for the rest of the year, and are assigning a zero percent probability that the Federal Open Market Committee will boost borrowing costs when it meets later this month.
"The Fed has already indicated its reluctance to hike and is very unlikely to hike to defend the currency," said Steven Englander, New York-based global head of Group-of-10 currency strategy at Citigroup Inc., the world's biggest currency trader. "If anything, they seem to be cheering any weakness the U.S. dollar encounters."
The greenback's slide may be the start of a 30 percent plunge over the next three years, according to Ulf Lindahl, chief executive officer of currency manager A.G. Bisset Associates. The 35-year market veteran, who manages more than $1 billion from Norwalk, Connecticut, said the dollar will decline as U.S. interest-rate expectations stay low.
Dollar View
The gloomy outlook for the dollar is short-sighted, according to Marc Chandler, global head of currency strategy in New York at Brown Brothers Harriman & Co. He expects the Fed will continue to tighten monetary policy as the economy strengthens, while central bankers from Tokyo to Frankfurt are committed to currency-weakening stimulus.
Yet signals from the Fed that policy will remain accommodative for the foreseeable future is thinning the ranks of dollar bulls.
"We're dollar bears and have been for a while," because the divergence between tighter U.S. monetary policy versus easing by other central banks is mostly priced in, said Daragh Maher, New-York-based head of U.S. currency strategy at HSBC Holdings Plc.
The bank called an end to the dollar rally last March, forecasting the currency ending 2016 at $1.20 per euro, versus $1.1398 on Tuesday
Source: Reuters
Charles Clifton
Forex Trader // Coach // Signals Service // Seminars
E: info@charlesclifton.co.uk
w: www.charlesclifton.co.uk
M: 07871 515203
T: 0117 3 789 969