Greenback has declined 4 percent in 2016 after two-year rally
Policy-divergence demand wanes as Fed slows tightening plans
Hedge funds and other large speculators are betting on dollar weakness for the first time in almost two years.
Positions that benefit from losses by the U.S. currency exceeded those that benefit from from a rally by a net 21,567 contracts in the week ended April 19, a report from the Commodity Futures Trading Commission showed Friday. That's the first time since July 2014 that the data haven't shown net long positions for the dollar versus eight other major currencies.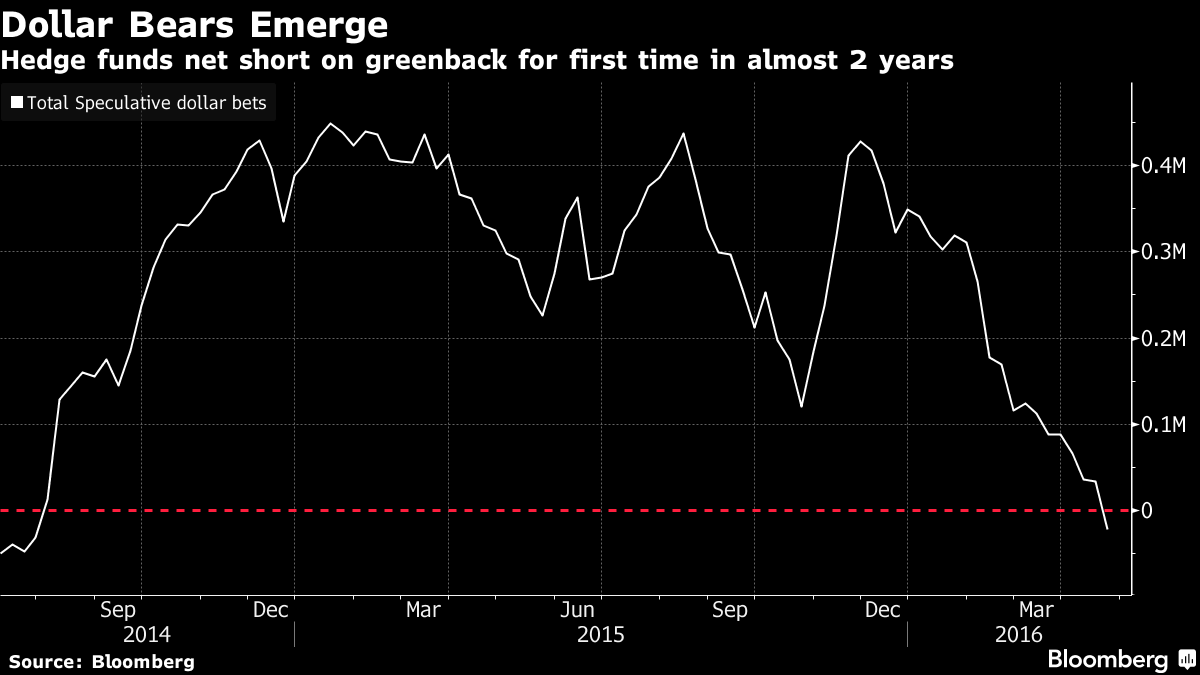 Buying the dollar was the winning trade for the past two years as the Federal Reserve moved toward higher interest rates while aggressive quantitative easing in Europe and Japan along with a China-led slowdown in emerging markets weakened rival currencies. The greenback rallied more than 20 percent since mid-2014 and reached the strongest since at least 2004 toward the end of January. The appreciation fizzled as a slowing economy prompted the U.S. central bank to cut forecasts for growth and inflation at its meeting last month, and set a higher bar for when it may raise rates again after pulling off the first increase in almost a decade in December.
"The March meeting sent a message that we don't have any rush changing the rates profile," said Mazen Issa, senior foreign-exchange strategist at Toronto-Dominion Bank in New York. "It's reflective of the divergence story from 2015 has become less clear in 2016."
The Bloomberg Dollar Spot Index, which tracks the U.S. currency against 10 major peers, rose 0.4 percent this week, paring a 4 percent decline this year.
Although futures traders are betting there's no chance Fed Chair Janet Yellen and the policy committee will raise rates at its meeting next week, they see a 63 percent probability that the central bank will hike by December, up from a 50 percent chance assigned a week ago. The calculation assumes the effective fed funds rate will average 0.625 percent after the central bank's next increase.
"Remember, Janet Yellen is now firmly in the camp that we only rise as inflation goes up," Axel Merk, president of Merk Investments LLC, said on Bloomberg Television. "The rise is tired, the dollar is tired."
Source: BBG
Charles Clifton
Forex Trader // Coach // Signals Service // Seminars
E: info@charlesclifton.co.uk
w: www.charlesclifton.co.uk
M: 07871 515203
T: 0117 3 789 969