Brexit Infects Global Markets as Unprecedented Moves Accumulate
Global markets buckled as Britain's vote on European Union membership infected every asset class.
Sterling slides most on record as U.K. stock futures plunge
Asian equities slump as oil sinks to $47, copper slides
The pound plunged by a record and the euro slid by the most since it was introduced in 1999 as the BBC projected a victory for the "Leave" campaign with most votes counted in Britain's referendum on membership of the European Union. South Africa's rand led slides among the currencies of commodity-exporting nations as oil sank to about $47 a barrel and industrial metals slumped. The yen surged and gold soared with U.S. Treasuries as investors piled into haven assets. Futures on the FTSE 100 Index plunged with S&P 500 Index contracts as Asian stocks dropped by the most in 10 months.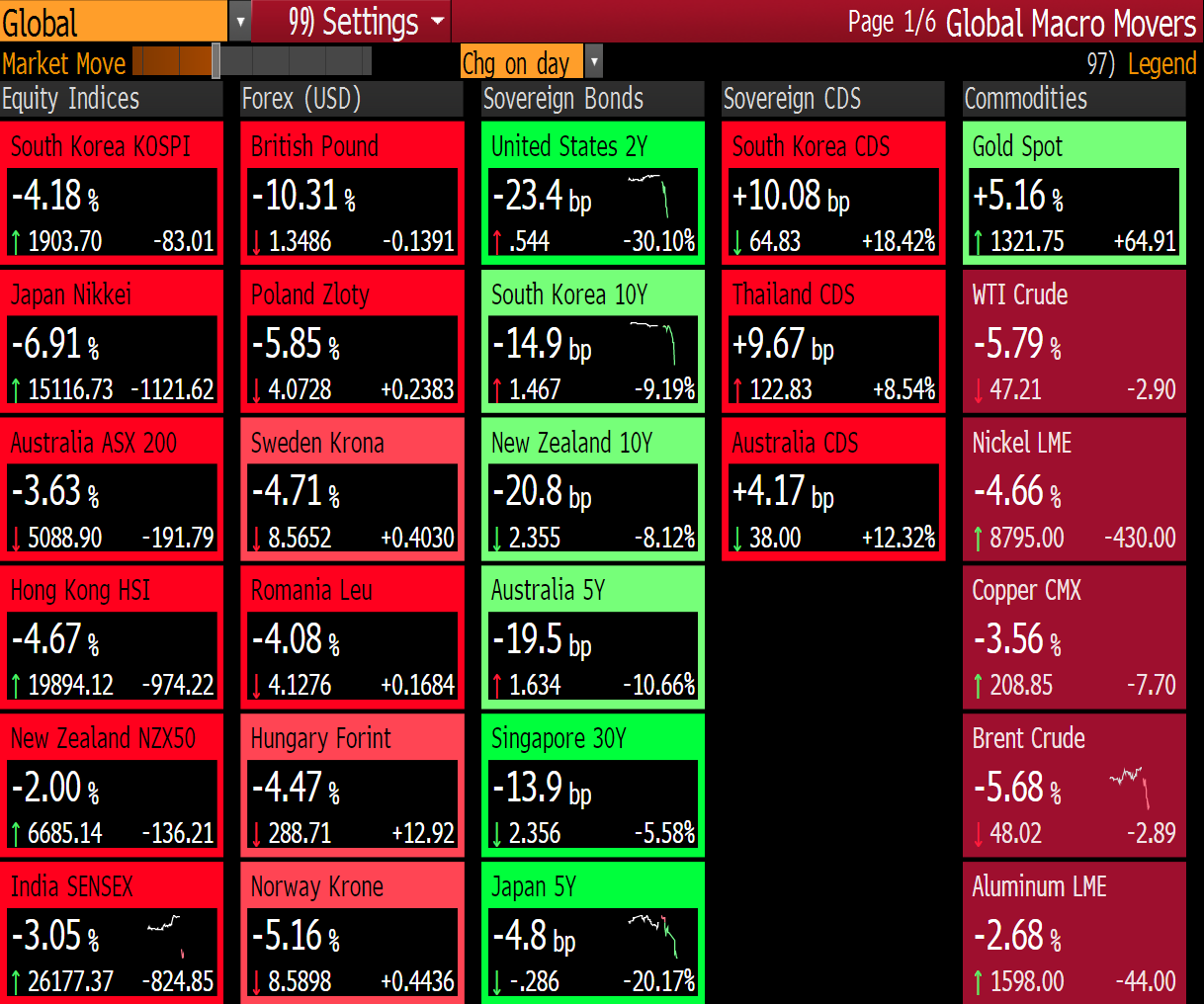 "It's scary, and I've never seen anything like it," said James Butterfill, head of research and investments at ETF Securities, said by phone from London. "We're going to see outflows from basically any kind of cyclical asset. A lot of people were caught out, and many investors will lose a lot of money."
The debate over the U.K.'s EU membership has dominated investor sentiment throughout June, with appetite for riskier assets having built up over the past week as bookmakers' odds suggested the chance of a so-called Brexit was less than one in four. Central banks and governments warned a British withdrawal from the EU would hurt global economic growth and trigger volatility in financial markets.
Currencies
The pound was down 11 percent at $1.3299 as of 1:32 p.m. in Tokyo. It climbed above $1.50 for the first time since December in early Asian trading before plummeting as low as $1.3229, its weakest level since 1985.
"This is a very challenging situation but the reality is that market liquidity and overall liquidity in the U.K. is drying up as we speak in a very rapid way," said John Woods, chief investment officer for Asia-Pacific at Credit Suisse Private Banking, told Bloomberg TV in Hong Kong. "It's highly likely that we see monetary easing in a coordinated response" from central banks across the world, he said.
The euro slumped 3.3 percent, while currencies in Norway, Sweden and Turkey posted even steeper losses. South Africa's rand tumbled 6.2 percent, the biggest decline in emerging markets.
Japan's currency surged 4.9 percent to 101.25 per dollar, its biggest jump since 1998. Against the pound, it jumped by a record 15 percent.
"All hell is breaking loose," says Vishnu Varathan, a senior economist in Singapore at Mizuho Bank Ltd. "The only surefire is you buy yen, you buy U.S. Treasuries, you buy gold, and you sit tight."
Stocks
Futures on the FTSE 100 sank 8.5 percent, while contracts on the S&P 500 were down 5.1 percent. The MSCI Asia Pacific Index declined 4.1 percent, with Japan's Topix falling 7.2 percent. Hong Kong's Hang Seng Index lost 4.7 percent as benchmarks retreated across the region.
British insurer Prudential Plc, HSBC Holdings Plc and Standard Chartered Plc all slid more than 10 percent in Hong Kong. Glencore Plc tumbled 14 percent.
Commodities
The Bloomberg Commodity Index fell 1.9 percent, its biggest loss in more than a month.
Crude oil tumbled as much as 6.8 percent in New York. Copper and nickel dropped more than 3 percent in London.
Gold jumped as much as 8.1 percent to $1,358.54 an ounce, its highest since March 2014.
"Gold will be a preferred safe-haven asset with a 'Leave' vote," said Barnabas Gan, an economist at Singapore-based Oversea-Chinese Banking Corp, who forecast that it could rally to as much as $1,400 if 'Remain' loses. Bullion's expected to remain volatile until the final verdict is out, according to Gan.
Bonds
U.S. Treasuries due in a decade surged, pushing their yield down by 22 basis points to 1.52 percent. That's the biggest decrease since August 2011.
"We've seen nothing but people trying to buy this market, and panic is palpable," said John Gorman, the head of U.S. debt trading for Asia and the Pacific at Nomura
Holdings Inc. in Tokyo.
Sovereign debt in Australia and New Zealand led gains in Asia-Pacific bond markets, while Japan's 30-year yield dropped to a record 0.145 percent.
Source: Daily BBG
Forex Trading Workshops – LONDON
Forex Trading Workshops – BRISTOL
Charles Clifton : Forex Trader // Coach // Signals // Seminars
E: info@charlesclifton.co.uk
w: www.charlesclifton.co.uk
M: 07871 515203
T: 0117 3 789 969
S: CharlesCliftonForexTrader