Prime Minister sets out negotiating goals in London speech

Pound surges after plunging in wake of reports of clean break
---
Learn to Trade professionally on a live trading floor
Make sense of the business with 1-2-1 trader training from Charles Clifton. Visit www.charlesclifton.co.uk/forex-courses/ for details.
---
Prime Minister Theresa May offered her most explicit vision of Britain's future relationship with its European Union neighbors, pledging to quit the single market and instead seek a customs agreement with the bloc to deliver "a smooth and orderly Brexit."
The pound surged after May's speech, in which she set out for the first time that her government is determined to make a clean break from the EU and said she would give Parliament a vote on the final Brexit deal. While saying that she wanted the U.K. to be "a good friend and neighbor in every way" to its former partners, she also warned them not to reject the model she was proposing.
.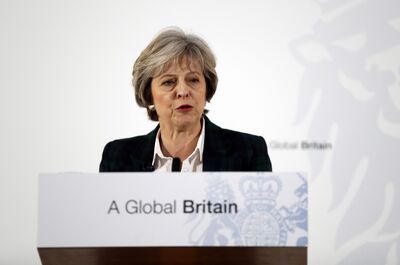 "I know there are some voices calling for a punitive deal that punishes Britain and discourages other countries from taking the same path," May said in her speech to diplomats in London on Tuesday. "That would be an act of calamitous self-harm for the countries of Europe. And it would not be the act of a friend."
Laying out the government's Brexit plans with 12 core objectives, May said that she was confident a deal can be reached with the European Union once the trigger to leave is pulled by the end of March. She called for a "phased approach" to implementing the new rules to ensure Brexit is "smooth."
May offered a series of red lines for the coming talks:
"What I'm proposing can't mean membership of the single market."
"I do want us to have a customs agreement with the EU. I want Britain to be free to reach our own tariff schedules at the WTO"
She said she wants to be able to negotiate new trade deals
She wants transitional arrangements for financial services
No more "huge" U.K. contributions to the EU budget
German Foreign Minister Frank-Walter Steinmeier commended May for providing "a bit more clarity" about her government's plans and for seeking strong ties with the EU in her speech, which was broadcast live on German news channels.
No Negotiations
"But our stance remains that the negotiations will only begin when Britain has officially announced its wish to leave" the EU, he said in statement.
Sterling, which plunged on Monday after weekend reports that May was planning to exit the single market, jumped against the dollar and was set for its biggest advance since the global crisis. It was up 2.3 percent at $1.232 as of 1:44 p.m. in London.
Executives from banks including Bank of America Corp., Credit Suisse Group AG and UBS Group AG earlier said at the World Economic Forum's annual meeting in Davos, Switzerland, that it was premature for them to start moving jobs and operations to the EU to ensure continued access after Brexit. HSBC Holdings Plc Chairman Douglas Flint said the industry still wanted clarity over what the future holds.
The Institute of Directors, in a statement after the speech, appealed to May to keep them informed as the negotiations with the EU continue, especially as she rejected any "off the shelf" model for Brexit.
'Phased Process'
May said she wanted an agreement about the nature of the future relationship with the EU by the time the Article 50 exit negotiation process completes in early 2019. That would be followed by "a phased process of implementation, in which both Britain and the EU institutions and member states prepare for the new arrangements."
This would give businesses, including financial services, time to plan, she said.
She was also clear that she was prepared to walk away if she couldn't get the deal she wanted. "We would still be able to trade with Europe," she said. "We would be free to strike trade deals across the world. And we would have the freedom to set the competitive tax rates and embrace the policies that would attract the world's best companies and biggest investors to Britain."
For the EU, she had a warning of mutual damage if there was no deal. "It would jeopardize investments in Britain by EU companies worth more than half a trillion pounds," she said. "It would mean a loss of access for European firms to the financial services of the City of London. It would risk exports from the EU to Britain worth around 290 billion pounds ($360 billion) every year. And it would disrupt the sophisticated and integrated supply chains upon which many EU companies rely."
Parliament Vote
May dodged a question on what would happen if the U.K. parliament rejects the deal that she manages to reach with her EU counterparts, saying only that she expects lawmakers to back it.
At that point, it might be impossible to reverse the Brexit process, meaning the U.K. found itself outside the EU without any agreement with the bloc, something unlikely to have much support in Parliament.
May has tried to avoid giving details of her strategy, arguing that revealing her negotiating direction before talks begin would restrict her options. It would also open her to criticism both in advance, for seeking too much or too little distance, and afterward if she fails to get what she wants.
But that position had become unsustainable, as both supporters and opponents of Brexit in Parliament demanded clarity. Jeremy Corbyn, leader of the opposition Labour Party, accused May of "wanting to have her cake and eat it" over access to the single market. He pledged to maintain pressure on the government over jobs and workers rights as Brexit approaches.
May's argument for leaving the single market was simple: to stay in "would to all intents and purposes mean not leaving the EU at all."
In particular, it would mean inability to control immigration, something that she has insisted she will do. "We will always want immigration, especially high-skilled immigration, we will always want immigration from Europe, and we will always welcome individual migrants as friends," she said. "But the message from the public before and during the referendum campaign was clear: Brexit must mean control of the number of people who come to Britain from Europe."
Source: Bloomberg
---
TRADING HUB has gone national – Now no-one need trade alone !
Trading Hub – LONDON   |   Trading Hub – BIRMINGHAM   |   Trading Hub – LEEDS
Trading Hub – SHEFFIELD   |   Trading Hub – MANCHESTER   |   Trading Hub – BRISTOL
---
Charles Clifton : Forex Trader // Coach // Signals // Seminars
E: info@charlesclifton.co.uk
w: www.charlesclifton.co.uk
M: 07871 515203
T: 0117 3 789 969
S: CharlesCliftonForexTrader