Weak inflation expectations may become self-fulfilling

Central bank forecasts 90-day bill rate at 2.2% by year end
New Zealand's central bank unexpectedly cut interest rates to a fresh record low and said further easing may be needed, joining global counterparts in adding stimulus to an economy struggling to generate inflation. The kiwi plunged almost 1 1/2 U.S. cents.
Reserve Bank Governor Graeme Wheeler lowered the official cash rate by a quarter point to 2.25 percent, a move predicted by just two of 17 economists surveyed by Bloomberg. The remainder tipped no change.  In recent weeks, a gauge of inflation expectations slumped to a 22-year low and Fonterra Cooperative Group Ltd. cut its forecast milk payment to New Zealand farmers to a nine-year low.
The global outlook has deteriorated "due to weaker growth in China and other emerging markets, and slower growth in Europe," Wheeler said Thursday in Wellington. "Further policy easing may be required to ensure that future average inflation settles near the middle of the target range."
Wheeler's resumption of easing follows moves to negative rates from Japan to Europe and comes as a stubbornly firm New Zealand dollar, weaker commodity prices and falling inflation expectations keep consumer prices below his 1-3 percent target. The central bank's forecasts suggest one further reduction in borrowing costs this year to underpin economic growth and return inflation to its 2 percent target midpoint by early 2018.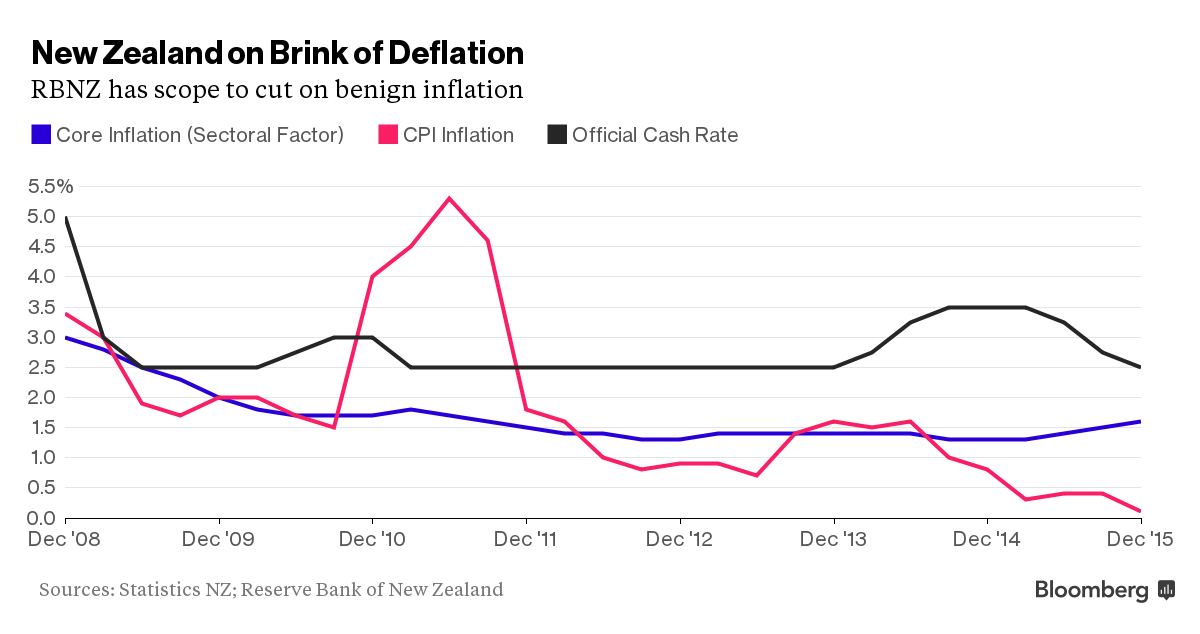 "The RBNZ has become much more concerned about the impact global developments are having on domestic inflation expectations," Citigroup Inc. economist Josh Williamson said. "We doubt that monetary policy in a very small open economy like New Zealand can do much to influence inflation expectations, particularly when much larger central banks like the BoJ and ECB are having difficulty in sustainably raising inflation and expectations. Nevertheless, Governor Wheeler has crossed the Rubicon in lowering the OCR."
Kiwi Plunges
The New Zealand dollar plunged after the statement, buying 66.35 U.S. cents at 11:50 a.m. in Wellington from 67.80 before the decision. The two-year interest rate swap yield dropped 15 basis points, or 0.15 percentage point, to a record-low 2.26 percent.
The currency has climbed since late January, muting price pressures, and Wheeler said today "a decline would be appropriate given the weakness in export prices."
'Shock' to Kiwi
"We see today's decision as a shock to lower the New Zealand dollar," said Annette Beacher, head of Asia-Pacific research at TD Securities in Singapore. "This is all about the currency."
The RBNZ forecast the 90-day bank bill yield, which provides a guide to the direction of the cash rate, will fall from 2.6 percent this quarter to 2.2 percent by the fourth quarter and 2.1 percent by mid-2017. While the bill yield forecasts suggest one further rate cut this year, some economists are suggesting further declines can't be ruled out.
"Given recent funding pressures and our view that more downside risks around the globe will emerge as the year progresses, we expect more than one cut before year end," said Cameron Bagrie, chief economist at ANZ Bank New Zealand in Wellington.
Wheeler cut rates four times between June and December before pausing in January, when he said some further easing may be required over the coming year. Financial markets were pricing just a 26 percent chance of a cut today, according to swaps data compiled by Bloomberg late Wednesday.
In a speech last month, Wheeler signaled he was in no rush to ease, saying a mechanistic approach to weak inflation would risk "creating serious distortions in the financial system, housing market and broader economy."
Self-Fulfilling
Two-year ahead inflation expectations fell to 1.63% in the first quarter from 1.85% three months earlier, according to a survey of businesses published by the RBNZ. That's the lowest since the second quarter of 1994.
"There has been a material decline in a range of inflation expectations," Wheeler said today. "This is a concern because it increases the risk that the decline in expectations becomes self-fulfilling and subdues future inflation outcomes."
The outlook for global growth has deteriorated since the RBNZ's previous forecasts published in December, Wheeler said. At the same time, the New Zealand economy is being supported by immigration, tourism, construction and low borrowing costs, he said.
Growth Outlook
Gross domestic product will expand 3 percent in the first quarter of 2017 from a year earlier, the RBNZ forecast. That almost matches the 3.1 percent predicted in December. Annual growth will be 3.1 percent in the first quarter of 2018, it said.
Consumer-price inflation will be 0.4 percent in the 12 months ending March 31, a third of the pace projected three months ago, the bank said today. Annual inflation was 0.1 percent in the fourth quarter last year and is projected to remain beneath the RBNZ's target range until late 2016.
Inflation will pick up only gradually and isn't forecast to reach 2 percent until the first quarter of 2018, the central bank said. Inflation has been below 2 percent since late 2011.
Wheeler's doubts about further easing expressed in last month's speech partly reflect the property boom sparked by low rates.
House prices remain at high levels and pressure has been building outside Auckland, he said. While values in Auckland, home to a third of New Zealand's 4.5 million people, eased in the past three months, prices in other cities such as Wellington and Tauranga have surged as money from the Auckland market cascades into other centers.

Source: Bloomberg
---
Next Seminar
Tues 15th March, 6.30 to 8.30 pm, Bristol
---
Charles Clifton
Forex Trader // Coach // Signals Service // Seminars
E: info@charlesclifton.co.uk
w: www.charlesclifton.co.uk
M: 07871 515203
T: 0117 3 789 969