BBG:
Governing Council meets in Frankfurt on Thursday to set policy
Key question whether to respond to or look through crude drop
Five years after the European Central Bank was misled by rising oil prices, Mario Draghi must decide how to respond to slumping ones.
In 2011, as head of the Bank of Italy, Draghi was on the Governing Council that raised interest rates to curb energy-led inflation — and unwittingly helped tip the euro area into recession. As ECB president, amid a Chinese slowdown that's throwing international markets into turmoil, he's now judging whether to look through crude's crash or act to shore up euro-area inflation and safeguard the recovery.
Investors are watching for hints that the council, which meets on Thursday, is gearing up for fresh stimulus as soon as the next gathering in March. While officials are aware that their 1.5 trillion-euro ($1.6 trillion) bond-buying program and negative interest rates carry risks, Draghi needs to protect the ECB's credibility by ensuring low inflation doesn't become entrenched.
"Draghi's reputation is gilt-edged; what he has managed so far, in the conditions he has found himself, is nothing short of remarkable," said Richard Barwell, senior economist at BNP Paribas Investment Partners in London. "Now there is a real risk of inflation getting stuck near zero and, in a scenario dominated by slowing global demand, he'll fight hard to make sure that doing more is still on the table."
The ECB will announce its rate decision at 1:45 p.m. in Frankfurt, and Draghi will hold a press conference 45 minutes later. While none of the economists surveyed by Bloomberg predicts the central bank will cut rates or bolster quantitative easing, most say new measures will be announced later this year.
The ECB president has shown a readiness to act if needed, saying in New York on Dec. 4 that "there cannot be any limit to how far we are willing to deploy our instruments" within mandate. Those comments came a day after the central bank's last monetary-policy meeting, when a deposit-rate cut and extension to the bond-buying program disappointed investors.
Downside risks include China's drag on trade and the euro area's struggle to deal with bad loans. The immediate problem though is oil, with Brent crude down more than 25 percent this month to a 12-year low. That means the ECB's December forecasts that saw inflation accelerating from near zero currently to an average of 1.6 percent in 2017 are probably already out of date.
When the ECB made its forecasts, it assumed the cost of Brent would rise from an average $54 a barrel in 2015 to roughly $58 a barrel next year. It's currently trading at about $28 a barrel.
It's "really extraordinary that we had this huge decline of the oil price, and that of course has an effect on the inflation rate," ECB Governing Council member Ewald Nowotny said on Wednesday.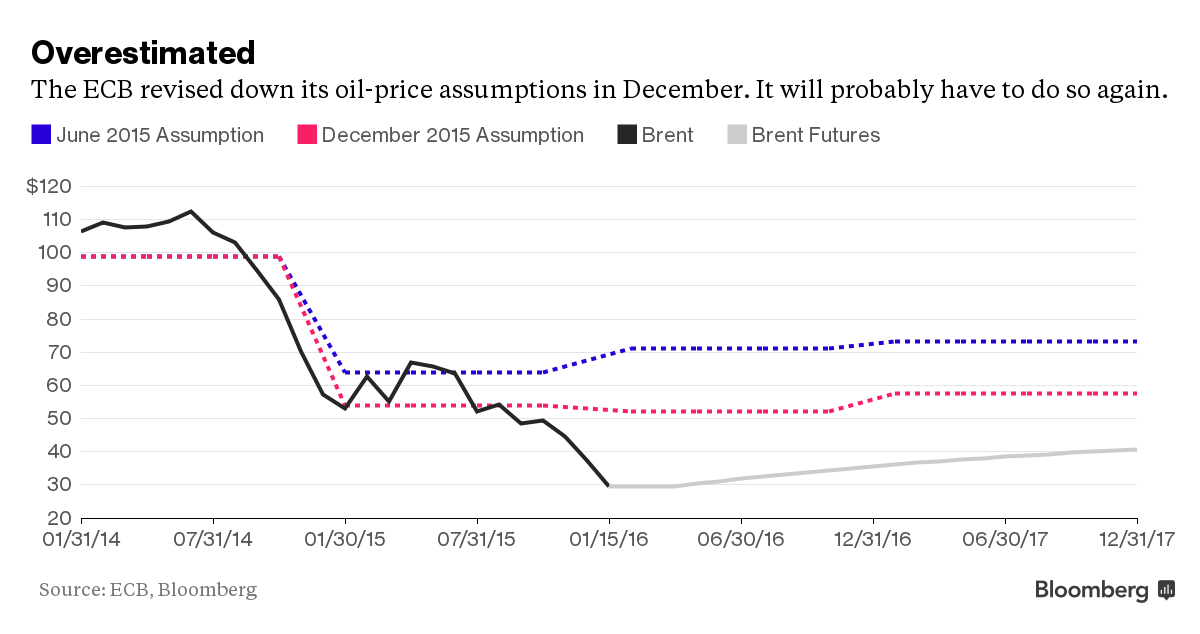 Central bankers typically look through market movements to take a medium-term view — unless inflation expectations and the real economy are under threat. In 2011, with Brent well over $100 a barrel and inflation headed for 3 percent, the ECB under then-President Jean-Claude Trichet raised interest rates twice "in the light of upside risks to price stability."
Half of the current ECB Executive Board — Draghi, Vice President Vitor Constancio of Portugal and Yves Merschof Luxembourg — were on the Governing Council at the time of both unanimous decisions. Executive Board member Peter Praet and the current governors of several central banks were members when at least one of the decisions was taken.
What they didn't know was that the economy, not long out of the 2008-2009 recession, wasn't as strong as it looked. When Draghi succeeded Trichet in November 2011, with downside risks materializing, he cut rates in each of his first two monetary meetings. Even so, a six-quarter slump followed and inflation has been slowing ever since.
While the dilemma of whether to look through oil prices is the same, the consequences of getting it wrong differ this time round. Bundesbank President Jens Weidmann warned last week that low interest rates over an extended period squeeze bank profits and risk fueling asset bubbles. The ECB noted in its Financial Stability Review in November that very loose monetary policy is pushing asset valuations higher, so that they face a greater risk of correction.
The situation is complicated by the potential fallout from China. While Nowotny said this week that turbulence in China's stock market is a "psychological phenomenon" without a deeper economic impact, his colleague Ilmars Rimsevics warned that "people are a bit too relaxed" about how serious the impact on trade might be.
China is going through "massive transitions," International Monetary Fund Managing Director Christine Lagarde told a panel at the World Economic Forum on Thursday in Davos, Switzerland. While "all those changes are perfectly manageable if the right policies are taken," more communication on the balance of payments and the exchange rate "would serve that transition better," she said.
Ultimately, the overriding concern for the ECB may be closer to home — its own credibility. The central bank's remit requires it to return inflation to just under 2 percent, a point Draghi will almost certainly reiterate on Thursday.
"They can't afford any mistakes," said Frederik Ducrozet, an economist at Banque Pictet & Cie SA in Geneva. "Their concern is that in the current environment of secular stagnation and low growth, inflation will become stuck at near zero, and for this reason they have a bias for being dovish."