Wheeler leaves offical cash rate unchanged at 2.25 percent
New Zealand dollar climbs, swap yields rise in Wellington
New Zealand's central bank said it may need to cut interest rates further after holding them steady Thursday, as slowing global economic growth and a strong currency prolong a period of low inflation.
"Further policy easing may be required to ensure that future average inflation settles near the middle of the target range," Reserve Bank of New Zealand Governor Graeme Wheeler said in Wellington after keeping the official cash rate at 2.25 percent, a record low. The New Zealand dollar surged as some market participants had expected the central bank to cut rates today.
Wheeler unexpectedly lowered rates in March and has scope to ease further as inflation holds below the 1-3 percent band he's required to target. Still, the central bank may be wary of fueling an overheated housing market with lower borrowing costs, and said today it expects inflation to strengthen as capacity pressures in the economy build.
"The door to a June cut remains open," said Cameron Bagrie, chief economist at ANZ Bank New Zealand in Wellington. "But we see this as very much a line-ball call. Additional easing may not be in the best interests of the economy."
Investors reduced bets on a rate cut in June after the decision, pricing a 51 percent chance at 10:10 a.m. in Wellington compared with 72 percent before the statement, according to swaps data compiled by Bloomberg.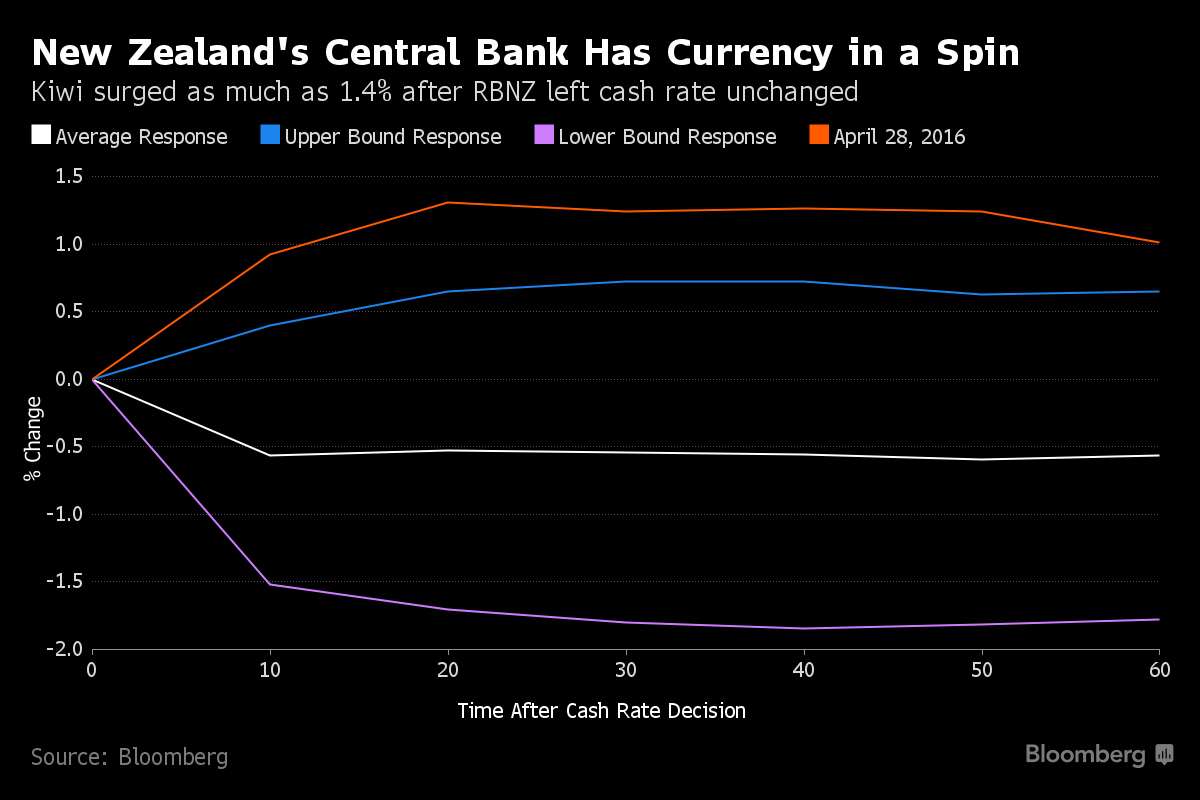 New Zealand two-year swap rates rose 0.08 percentage point to 2.27 percent and the local dollar jumped 1 percent to 69.16 U.S. cents. The currency has gained 6.8 percent the past three months.
Lower Kiwi 'Desirable'
"The exchange rate remains higher than appropriate given New Zealand's low commodity export prices," Wheeler said. "A lower New Zealand dollar is desirable to boost tradables inflation and assist the tradables sector."
Wheeler in March cited a worsening global growth outlook, declining inflation expectations and a more dovish Federal Reserve when he lowered the cash rate. Just three of 16 economists surveyed by Bloomberg expected a cut today, while all 16 saw the cash rate lower after the next review on June 9.
Federal Reserve
Fed policy makers left open the door to raising interest rates in June, according to a statement three hours before the RBNZ decision.
The RBNZ on March 10 forecast inflation will return to 1 percent late this year, and achieve the 2 percent target midpoint by early 2018. Consumer prices rose just 0.4 percent in the year through March.
"We expect inflation to strengthen as the effects of low oil prices drop out and as capacity pressures gradually build," Wheeler said Thursday. While headline data remains low, core inflation remains within the target range and long-term expectations are well anchored at 2 percent, he said. Still, "there has been a material decline in shorter-term expectations."
Wheeler said while the New Zealand economy is being supported by high immigration, construction and tourism, the outlook for global growth has deteriorated and commodity prices remain weak. There are also risks from falling inflation expectations and housing market pressures, he said.
The central bank is monitoring the property market amid signs that prices in Auckland — home to a third of New Zealand's 4.5 million people — are rising again. Wheeler is conscious that lower borrowing costs could add fuel to housing demand and pose a risk to financial stability.
"There are some indicators that house price inflation in Auckland may be picking up," Wheeler said. "House prices remain at very high levels and additional housing supply is needed."
Source: BBG
Charles Clifton
Forex Trader // Coach // Signals Service // Seminars
E: info@charlesclifton.co.uk
w: www.charlesclifton.co.uk
M: 07871 515203
T: 0117 3 789 969