Greenback sinks as services data spark economy concerns
S&P 500 erases loss of 1.6% as crude surges past $32 a barrel
The dollar sank the most in seven years against major currencies as services data raised concern about the strength of the American economy. U.S. stocks staged an afternoon rally to erase losses as crude surged more than 8 percent in New York.
The Bloomberg Dollar Spot Index tumbled 1.7 percent after data showed services industries expanded at the slowest pace in nearly two years. The Dow Jones Industrial Average jumped more than 150 points as Exxon Mobil Corp. rallied. Crude surged more than 8 percent after its biggest two-day plunge in seven years, and commodities gains led Brazil's Ibovespa to the biggest equities gain in the world.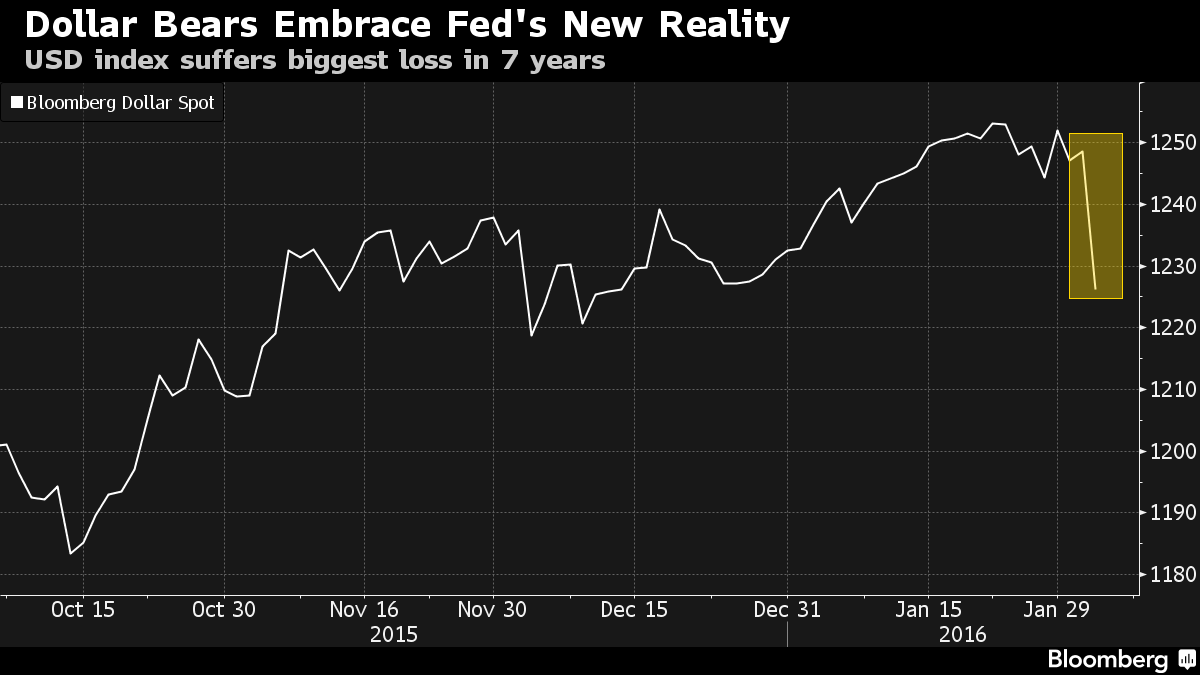 While data showing U.S. companies hired more than 200,000 workers in January provided a fresh sign that the labor market continued to power past slowing growth, the services miss sparked concern that the largest part of the American economy isn't immune to weakness elsewhere. The data tipped the fixed-income market's balance toward zero rate hikes by the Federal Reserve this year, adding to speculation that central banks from Asia to Europe will act to damp the turmoil that's roiled markets this year.
Stocks
The S&P 500 rose 0.4 percent at 3:04 p.m. in New York, while gains in Exxon Mobil Corp. and Chevron Corp. pushed the Dow higher. The broader index is looking for its first gain in February following a 5.1 percent drop last month that delivered the weakest start to a year since 2009.
"This is an emotional, sentiment-driven market and it's likely to remain tied to oil," Michael James, managing director of equity trading at Wedbush Securities Inc. in Los Angeles, said by phone.
The Stoxx Europe 600 Index fell 1.5 percent as declines in banks dragged stocks lower for a third day. A gauge of lenders posted the worst performance, extending its lowest level since 2012. The Ibovespa led gains among the world's stock markets Wednesday as a rebound in commodity prices spurred a rally in Vale SA and helped lift Brazil's real.
Currencies
The Bloomberg Dollar Spot Index's decline was the most since March 2009, as the greenback fell 1.8 percent to $1.1118 per euro. Currency traders are catching up to the bond market, where 10-year yields sank to the lowest in a year Wednesday, while futures are sending the strongest signal yet that traders expect the Fed to stand pat this year.
"The currencies market has been at odds with the rates market, and now the rates market is winning," Peter Gorra, head of foreign-exchange trading in New York at BNP Paribas SA. "There's a disconnect where the Fed says it's four hikes while the market says it's like 0.7 hike this year — someone is wrong."
TThe dollar's pullback this week has reversed all the yen's decline against the greenback on Friday when Bank of Japan introduced negative interest rates to revive inflation, which is stuck near zero.
Emerging Markets
The MSCI Emerging Markets Index fell for a second day, dropping 0.6 percent. Asia led declines, with equity benchmarks in India, Malaysia and the Philippines losing at least 1.2 percent each.
A Bloomberg gauge of 20 developing-nation currencies rose for the first time in three days. Brazil's real advanced 0.8 percent and Turkey's lira added 0.4 percent.
The offshore yuan fell 0.2 percent to 6.6395 after reaching to 6.6512, the weakest since Jan. 11. The onshore currency was little changed at 6.5775.
China's central bank plans to loosen rules on when foreign investors can bring money in and out of the country, according to people with direct knowledge of the matter.
The changes would apply to funds under the Qualified Foreign Institutional Investor plan, said the people, who asked not to be identified as the plans have yet to be announced.
Bonds
U.S. Treasury 10-year note yields climbed two basis points to 1.86 percent, after falling to 1.83 percent, the least since April 6. The U.S. Treasury said it will reduce issuance of longer-term debt this quarter and scale back sales of inflation-protected securities, while boosting offerings of bills as demand increases for short-term debt.
Demand for the relative safety of Germany's government bonds pushed two-year note yields to a record low even as a third consecutive auction failed to attract enough bids for the nation to reach its sale goal. Yields on 10-year Japanese bonds dropped to as low as 0.043 percent, the lowest ever for a 10-year sovereign note in a Group of Seven country.
The bond market's balance tipped toward zero rate hikes this year. Futures show traders expect the Fed's effective rate to reach 0.495 percent by year-end. That level is closer to the current effective overnight rate of 0.38 percent than it is to 0.625 percent, where it may stand if the central bank raises its target range by a quarter-point again, following liftoff from near zero in December.
Commodities
The Bloomberg Commodity Index rallied 1.7 percent for the first advance in three sessions. West Texas Intermediate crude futures climbed more than 6 percent to $31.79 a barrel, as the falling dollar countered any concerns in the market over a steep gain in U.S. crude inventories to more than 500 million barrels for the first time since 1930. Oil plunged 11 percent on Monday and Tuesday, the most since March 2009.
Analysts are projecting prices will soar more than $15 by the end of 2016. WTI will reach $46 a barrel during the fourth quarter, while Brent in London will trade at $48 in the same period, the median of 17 estimates compiled by Bloomberg this year show.
Zinc for delivery in three months pushed metals higher, gaining 0.3 percent to $1,678.50 a metric ton on the London Metal Exchange. Lead climbed to the highest in about a month, with copper, aluminum and nickel also higher.
Original Article: Bloomberg