Most forecasters see a downturn but not a contraction
Recession. Vote to leave the European Union and a yearlong one is in the offing, according to the U.K. Treasury.
With Britain's referendum less than two weeks away, the outlook seems decidedly gloomy. Bank of England Governor Mark Carney has warned Brexit consequences could possibly include a "technical recession," defined as two consecutive quarters of falling economic output.
This chart shows why it's worth delving deeper into the different forecasts. While the majority of economists say a vote to leave will spark a slowdown, the Treasury is in the minority predicting an outright recession.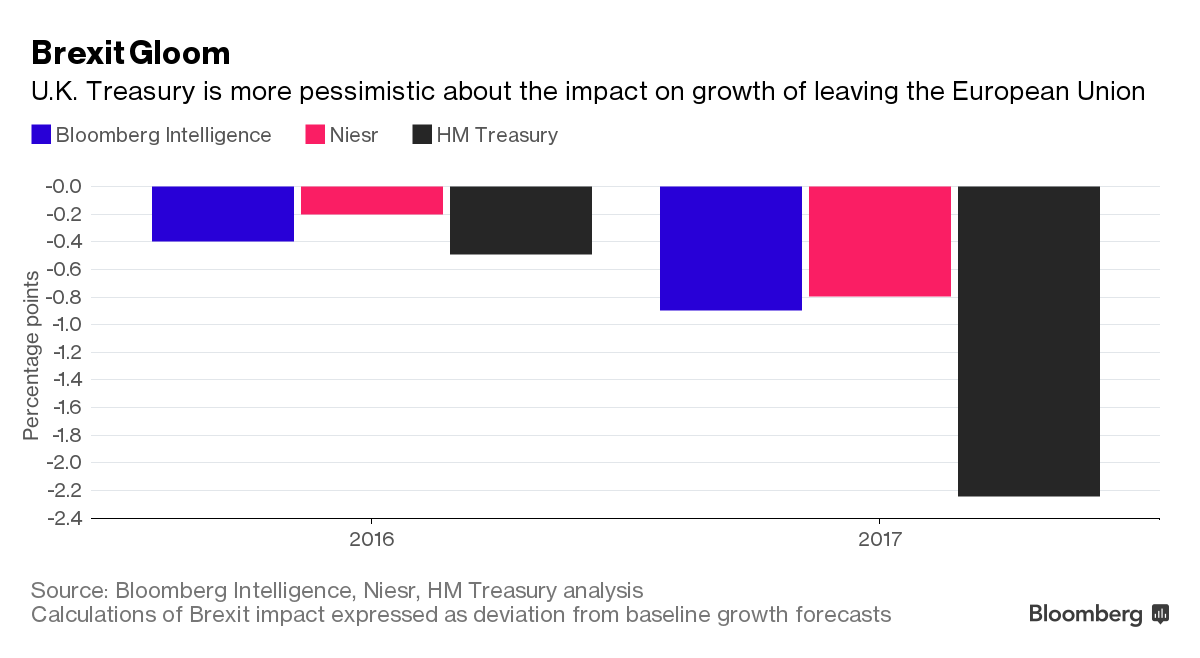 The Treasury analysis includes a sharper jolt to confidence and a deeper supply shock than most others, as well as assuming the BOE does nothing to support the economy. All that gives a very mild recession: four quarters each with a 0.1 percent contraction, under the "shock scenario."
"To have a recession of any significant magnitude, what you need is a credit crunch, a significant shock," said Jamie Murray, an economist at Bloomberg Intelligence in London. "We don't think that will happen because the BOE has already pledged to provide as much liquidity as is needed."
Murray predicts Brexit would wipe 0.4 percentage point off growth this year and 0.9 point next year, but the economy would still expand.
Source: Bloomberg
Forex Trading Workshops – LONDON
Forex Trading Workshops – BRISTOL
Charles Clifton : Forex Trader // Coach // Signals // Seminars
E: info@charlesclifton.co.uk
w: www.charlesclifton.co.uk
M: 07871 515203
T: 0117 3 789 969
S: CharlesCliftonForexTrader